BY VERONICA REINER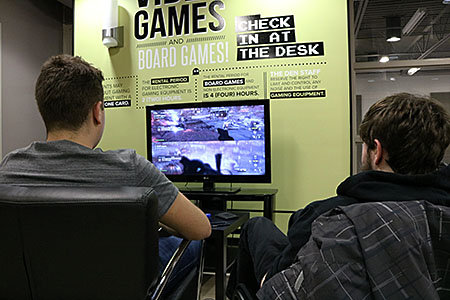 Who doesn't love to game? The popularity of video games has skyrocketed in recent years, not only console games, but smartphone apps such as Candy Crush. The popular puzzle game was downloaded 2.73 billion times by its fifth anniversary in 2017, according to the technology website VentureBeat. Furthermore, 80 per cent of households own a gaming device according to a Polygon, a gaming website.
The benefits of video games are plentiful. Research has shown they can improve problem-solving skills, hand-eye co-ordination, and enhance multi-tasking skills. There are even more in-depth benefits, such as helping military soldiers overcome post-traumatic stress disorder or increasing one's self-esteem through personal avatar creation. When played in moderation, video games can be a real benefit to one's cognitive structure.
But what about when the popularity and benefits become too much? This month, the World Health Organization decided to include gaming disorder in its International Classification of Diseases. It is characterized by impaired control over gaming behaviours. A prime example of this is when a person is gaming to the extent that it takes priority over other interests and hobbies, such as work or school. He or she games despite the negative consequences, such as missing an assignment or not going into work.
Andrej Titan is an Oakville adult gamer. He has been gaming for 36 years. He works as vice-president of Commercial Finance Service at RBC, and has a wife and two sons. Currently, he plays video games four to 12 hours a week.
However, he once struggled with gaming disorder.
"I played the strategy game Civilization for 12 hours straight one time," Titan said. He had to ask his wife to hide the video game from him in order to kick the habit. This is a common occurrence with certain games. In particular, online video games such as League of Legends or World of Warcraft have addictive properties. These type of video games are classified as massively multiplayer online role-playing games. But what is it about these particular games that get people so hooked?
"It's a form of escapism. I use them to completely forget about my problems. It's like getting lost in a fantasy world," Titan said, adding it helps him to escape from the stress of work, in particular.
Scientifically, the addictive properties of gaming can be attributed to a compulsion loop. A player is rewarded for completing a cycle of in-game activities. This creates a neurological reaction that releases dopamine, according to The Atlantic. It is remarkably similar to the reaction associated with a gambling addiction.
Titan's own children have a habit of excessive video game playing. To curb this, he sets a limit on the number of hours they are permitted to game. Otherwise, the habit would get out of hand.
"Children don't have the self-discipline to say enough is enough," Titan said. "It's so much easier to play video games than to do homework."
In order to keep children healthy long term, it is important in a technological-based age to limit one's exposure to video games. This way, they keep their priorities straight and their lifestyles remain balanced.
Over the years, there has been increasing depth to these games.
"Video games used to be much more simplistic. They were pixelated and extremely expensive," said Titan. "Games like Pong or Pac-Man."
But he said once the levels changed and a story began to develop, that's when gamers were hooked. They were immersed in the story and the narrative aspect of it. It became otherworldly.
The issue with video game addiction is unique. Unlike other addictions, it does not cause devastating health effects or extreme financial distress. Instead, it distracts from the real world; in particular, having more productive hobbies, such as socialization or exercise.
"Addiction to video games can be associated with underlying issues like low self-esteem and depression," said Dr. Aimee McMillan from Nith Valley Practice in New Hamburg. "It is not a common addiction to see here but it does happen."
"You're not exactly getting a lot of exercise when you're gaming," said Titan. "There are games that do require physical activity like Dance Dance Revolution or Wii Sports. But these games never really caught on. A person would be so much better off playing a sport than a video game."
Excessive gamers tend to neglect their own physical health, whether that be eating healthy or getting a regular amount of exercise.
Another downfall to video game addiction is the lack of socialization. Although online multiplayer games allow gamers to communicate with other players, it can lead gamers to become shy and introverted when it comes to real-word contact. Nothing can really replace face-to-face socialization.
Video game addiction is a serious affliction, and now an official diagnosis as of 2018. Some signs include increased social withdrawal, irritability and restlessness. Video games can be advantageous when played in moderation, but it is important to make sure it does not become an excessive habit. Cures include cognitive behavioural therapy, or simply unplugging the game and going for a walk.
"A simple video game detox will do wonders," said McMillan. "It's important to show gamers that excitement can be found in the real world, too."